February 27th, 2011 by Cyndi Freeman
So I have been working on my one woman show for 2 years.
And now, Wonder Woman: A How-To Guide For Little Jewish Girls is finally up and running. What a rewarding feeling! The first review is in and it is shining so I thought I would share.
The show is about how the TV show Wonder Woman, starring Lynda Carter, inspired me as a kid and how the icon continues to give me guidance to this day.
It was 1976 when the first pilot episode aired. The first full season was set during World War II – this held a special interest for me for 2 reasons.
1- My dad designed weaponry in that war – in fact he helped develop the Bazooka.
2- In Hebrew School they were teaching us about the Holocaust.
And there was Wonder Woman on Friday night kicking Nazi Ass!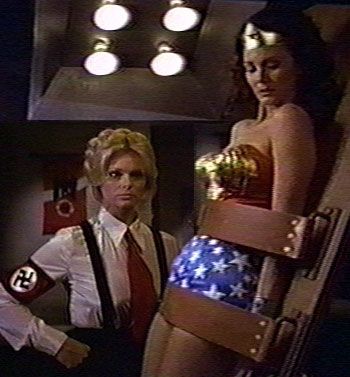 Okay after she breaks out of her straps – she kicks Nazi ass!
———————————————-
Here is the info on the show – there's one week left. If you are in NY I hope you can make it!!

FRIGID New York presents an HT production:
Wonder Woman: A How To Guide for Little Jewish Girls
Written by Cyndi Freeman* / Directed by David Drake
Presented as part of Frigid New York 2011- February 23-March 6
www.frigidnewyork.info
@ THE RED ROOM (85 East 4th Street between 2nd Ave and Bowery)
Tue Mar 1st – 8:00 PM / Thu Mar 3rd -11:00 PM / Sat Mar 5th – 2:00 PM
Tickets $10Â ($7 Students & seniors) www.smarttix.com / or call: 212-868-4444
Two-time FringeNYC award-winning writer/performer Cyndi Freeman's latest solo show traces her journey from a little suburban Jewish girl obsessed with Wonder Woman to a fabulous burlesque queen in NYC. A veteran storyteller and MothSlam winner, Freeman recounts personal tales of heroics and harrowing adventures while joyfully spewing trivia about America's first and favorite female super hero: Wonder Woman. Join her on a crusade to right wrongs while wearing fabulous outfits. For more information and images go to -www.heroicsinhotpants.com.