September 28th, 2012 by Jeff Simmermon
Hey, folks – I screwed up an earlier version of this post and flyer, and posted the wrong time. The show is definitely at 9 PM on Wednesday, October 3rd.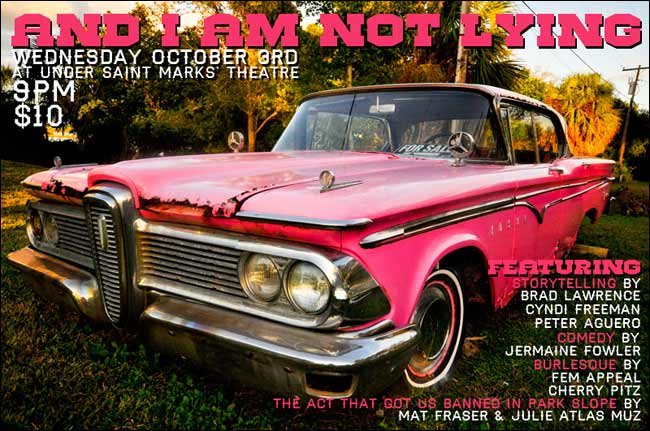 And I Am Not Lying had a monthly run at Union Hall in Brooklyn starting at the beginning of the year, and it was going pretty well. We put on a stadium-sized show down there in the basement, and the audience got a LOT of show for their ten bucks.
One of the things we pride ourselves on is putting on a show full of surprises, so you never quite know what's going to happen — or what just happened. I want people to walk out of there thinking "holy crap, I don't even know what I just saw, but I can't wait to see it again."
Maybe like a David Sedaris reading crossed with a KISS concert. In that spirit, we booked a grand finale from dear friends and burlesque legends Mat Fraser and Julie Atlas Muz for our May show. And they brought some seriously strange heat from another dimension with an act that was wild, rude, daring, dirty and sweet all at once.
Maybe like a John Waters movie screened at a Flaming Lips concert.
But the act was really, really intense, really, really wild, and there was maybe a lot more frontal nudity in it than Union Hall's owners would prefer. I can't imagine that it tickled anybody's prurient interest – strangers were hugging each other and screaming with laughter, jumping up and just running around the room and yelling in general. I've never seen a crowd do that before in my life. I felt like Mat and Julie took us all to a gutter on a higher plane of existence.
But rules are rules, and we got asked to leave. A lot of bars have to protect their liquor licenses, and that's just the way the world works. I'm not going to lie to you: it hurt, really bad. It stung all summer. We took the time off, did a bunch of shows out of town, and geared up for …
… A triumphant comeback, at a new venue, where the only rule is: ABSOLUTELY NO GLITTER.
We're BEYOND stoked to announce our triumphant return to NYC in our new monthly residency at Under Saint Marks' Theater! We'll be bringing the best storytelling, comedy, burlesque and sideshow on the first Wednesday of every month at 9PM!
And, at the request of Under Saint Marks' theater, we're going to be kicking off our residency with a special visit from Mat Fraser and Julie Atlas Muz, performing the act that got us BANNED IN PARK SLOPE!
For tickets, go here: http://www.tinyurl.com/notlying-10-1
To find the theater, click here: http://goo.gl/maps/d7IXg
This month we're starting off in fine style with:
Comedy by:
Jermaine Fowler
Burlesque by:
Fem Appeal
Cherry Pitz
Storytelling by:
Peter Aguero
Brad Lawrence
Cyndi Freeman
Unfortunately, I can't make this show — but I'll be back in November, and I hope you guys are, too. Let me know how it goes – it should be pretty bananas.