Archives Posts
January 31st, 2011 by D.Billy
I have learned that there is a SUPERVOLCANO (which is a real thing not made up by an 8-year-old kid, apparently,) underneath Yellowstone National Park in Wyoming. This supervolcano has erupted in the past, and was possibly partially responsible for the extinction of the dinosaurs. According to one guy (who keeps saying "million" when he means "thousand", which you'd think would be problematic for a physicist,) it WILL erupt again, and everybody who lives in the huge area depicted here will be pretty well f*cked.
Coincidentally, on the same day that I learned that 11 U.S. states and 3 Canadian provinces are just incontrovertibly screwed six ways to Sunday, I came across this amazing and hilarious Jack Kirby drawing from 1972 of what our future might look like after "A GREAT CATACLYSM!":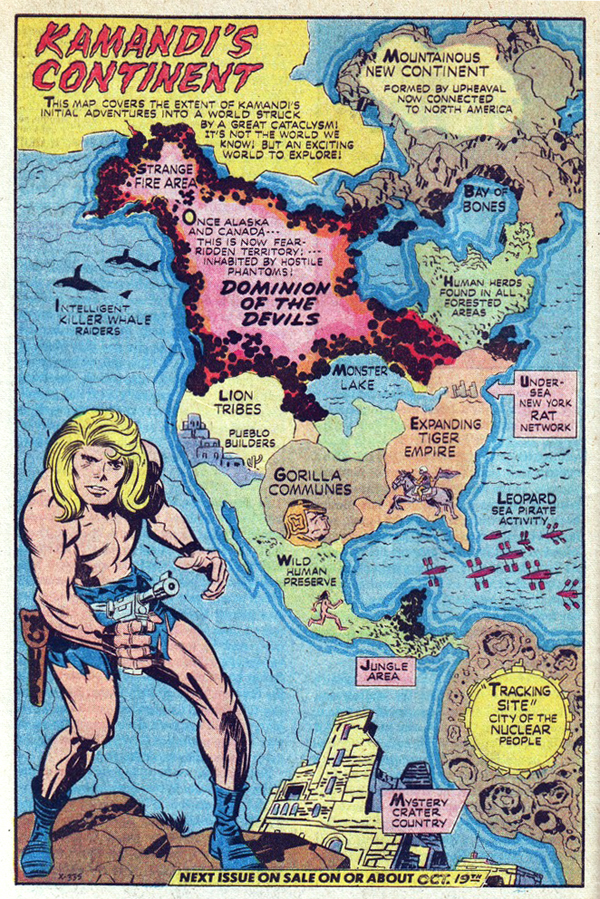 Image taken from Kamandi #1, Via the always excellent Comic Book Cartography.
Also, Discovery Channel has a pretty cool interactive explanation of the supervolcano.
BOOM. For real.